Marketing and advertising are often associated with "mass-messaging" strategies to reach the most people instead of the right people.
With direct marketing, you can have more control over your message, who it's going to, and when they're going to receive it. You can make your message more personalized to your clients and avoid any "middle-man" marketing strategies that other tactics may require.
When it comes to senior living, your clients are doing a ton of research before committing to a purchase decision. Help them make this decision by providing them with the information they need when they need it.
Why Direct Marketing Matters
Direct marketing is used to reach your target audience in a way that doesn't feel like traditional paid advertising. Paid advertising is a mass message by nature. Direct marketing allows you to reach your potential, or existing, clients where they are with a personalized message and organic intent.
This is also referred to as direct response marketing.
When it comes to senior living, clients are preparing for an expensive, life-long purchase. Expensive purchases and life-long purchases are often heavily researched before any commitment is made by the client. Senior living is no exception.
With direct marketing, you can help make your client's decisions easier by communicating with them directly.
With direct marketing, you can reach both potential residents and child decision-makers. Nowadays, 4/10 mature adults (65+) own a smartphone which has more than doubled since 2013. Access to the digital space has never been more prominent and you can use this to your advantage.
Let's look at some strategies.
Strategies to Reach Your Audience
Update Your Website
All roads lead to your website.
No matter what marketing strategies you implement, it's likely that the end goal is to get the user to your website. This may be to contact you, download a resource, or sign-up for a newsletter. Regardless of the goal, your website needs to be appealing, user-friendly, and efficient in order to maximize conversions.
You should think about what you want users to do when they land on your website. Ensure your website loads quickly and is easy to navigate. Make important information easily accessible. You want people who come to your website to stay, so make it a site worth exploring.
In general, your website should have:
Attractive, but not overwhelming, imagery that showcases your community
Simple, intuitive navigation
Content that is easy to understand & skim
Easy-fill forms
Contact information that is readily available
Your website is an important first impression for your users. Updating your website should be your first priority when it comes to marketing your community.
SEO & PPC
Once your website is ready, you can implement SEO (Search Engine Optimization) strategies to boost your organic ranking on Google. SEO uses keywords, content, and posts to improve your website's credibility.
SEO allows you to reach your audience naturally when they search for certain things, like "senior care near me" or "senior living community."
PPC (Pay-Per-Click) allows you to target specific people and areas based on your marketing goals. You set a budget for your digital ads and create custom ads based on who you want to reach and where you're marketing.
Social Media
Social media is an amazing tool to reach your audience directly.
One study has found that adults in the US aged 65 years and up own a smartphone, and 40% of these people are on at least one social media platform.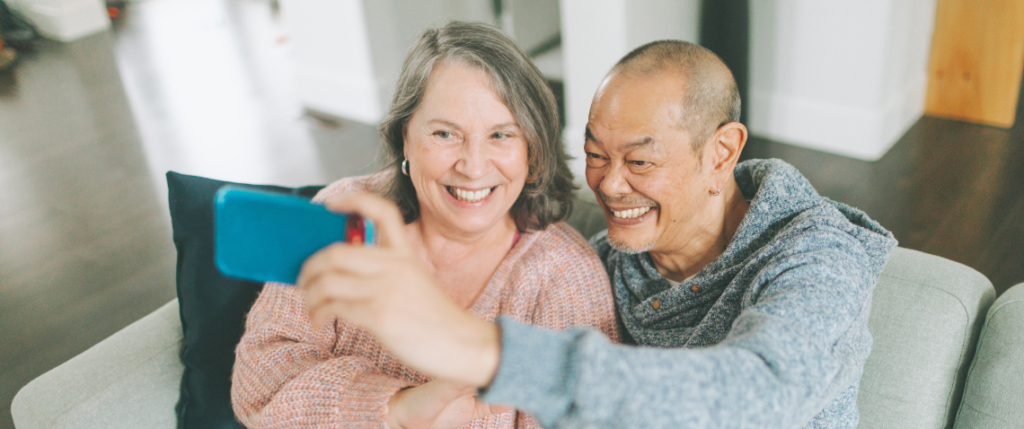 This means that your audience is scrolling through Facebook and Instagram regularly, and your community should be appearing in their feeds when possible. These platforms allow you to create an emotional response by using imagery and copy and delivering this content to them on their social platforms.
Social media allows you to build trust with potential residents and can be used as a way to improve your authority in the senior living space.
Family Outreach
Many residents will find you through child decision-makers. Creating a relationship with this audience through your digital marketing should be done in a way to educate and instill trust.
83% of consumers say they either "completely or somewhat trust recommendations from family, colleagues, and friends" about products or services.
You can use direct marketing strategies to reach residents' families and generate interest in your community.
Virtual Tours
Since COVID, there has been a huge shift in how people engage with brands and businesses online.
Especially in the senior living space, providing virtual options for potential residents to explore your community is a great way to establish trust and educate. Virtual tours are an excellent way to show your community to more potential residents.
Your target audience likely values transparency and virtual tours of your community are an effective way to show more of your community without requiring larger commitments from potential residents or their families.
Community Partnerships
Fostering community partnerships in your area can enrich the lives of all your residents by providing more activities and a larger community to enjoy.
You can partner with local organizations to host special events in your community and promote your reputation. Showing that your community is involved in the town or city can be appealing to residents.
Invest in Tech
The way that senior adults use technology is changing, so your community needs to keep up.
Investing in advanced technology for medical or recreational purposes in your community shows potential residents that you care about progress and improvement. This is an important factor for someone deciding whether or not to spend their life in your community.
For example, you could offer on-demand videos in your library on various topics that allow your residents to interact with amenities in a different way. This can provide more enrichment than just simple cable TV.
Know Your Client First
The best thing you can do for your senior living community is to understand exactly who you are trying to reach.
Before you start any direct marketing, you need to be able to answer these questions:
Who is my target audience? (Age, gender, marital status, interests, etc.)
Where does my target audience live, work, shop, visit?
Why does my target audience need my services?
How does my target audience like to be communicated with?
If you can answer these questions, you can build an impactful direct marketing campaign to reach these people in an effective, personalized way.For assistance with direct marketing, or any other marketing initiatives, contact our experts at CITIZEN to learn more about how we can help you achieve your business goals.