YouTube ads can be an effective way to reach and engage your target audience, promoting your brand, products, or services.
There is so much you can do with YouTube advertising.
Using demographic targeting, you can show your ads to specific age groups, genders, or locations. Interest targeting allows you to reach people who have shown interest in topics related to your brand.
The video format can be particularly effective for demonstrating products or services. Retargeting allows you to convert previously engaged leads into paying customers. Additionally, YouTube provides a lot of data that can be used to measure ad performance and optimize your ad strategy for better results.
Overall, YouTube ads can be an effective tool for reaching your target audience, promoting your brand, and achieving your desired outcome with a relevant audience.
What are YouTube Ads?
YouTube ads allow you to market your video content on YouTube or in search results so you can reach a wider audience online.
Run through Google Ads, YouTube advertising could be a video played before another video or a sponsored video that appears when users search certain terms so they can watch your content in full. There are 6 types of YouTube ads:
TrueView ads
Non-skippable instream ads
Bumper instream ads
Sponsored card ads
Overlay ads
Display ads
Let's examine each of these types of ads to get the best understanding of which ads are right for your business.
TrueView Ads
TrueView in-stream ads are a type of advertising format on YouTube that allows you to reach potential residents and their families with their video content before, during, or after other videos on YouTube. TrueView in-stream ads are typically 15 – 20 seconds in length but can be up to 3 minutes in total.
When a viewer clicks on a TrueView in-stream ad, they are directed to your website or the promoted video on YouTube. This allows you to drive targeted traffic to your website, or increase the view count on your YouTube video.
TrueView ads are:
Non-intrusive as the user can skip the ad after 5 seconds
Targeted to specific demographics, interests, & behaviours
Shown on YouTube & Google video partners' websites/apps
Measurable with trackable performance
Cost-effective
For skippable ads, a small button will appear after 5 seconds that allows the watcher to skip your ad. See below: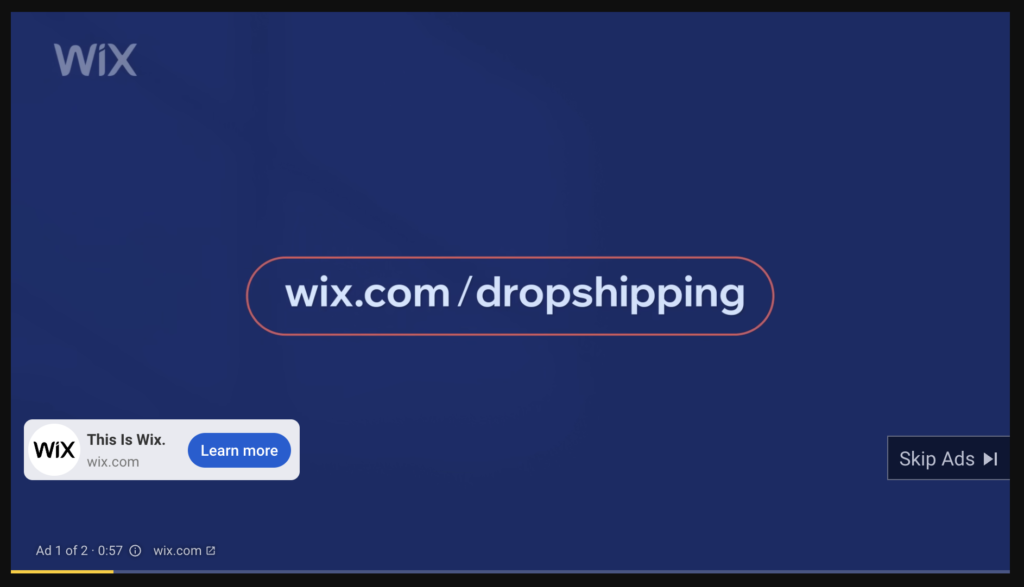 Non-Skippable In-Stream Ad
A non-skippable in-stream ad is a video ad format on YouTube that force the viewer to watch the entire ad before moving on to the intended video content. They usually last 15 – 20 seconds and appear at the start of the video.
These are considered a more traditional form of advertising and are best for building brand awareness, promoting new products, or reaching a specific target audience. These ads are not as popular as skippable in-stream ads, but they have the advantage of ensuring the viewer watches the ad, making it a good option when trying to deliver a message that needs attention.
Bumper Ads
Bumper ads are short, non-skippable videos that are about 6 – 30 seconds long. These ads can be effective for promoting senior living communities by giving a quick, memorable message about their location, amenities, and services.
These ads can be used to create awareness about the community, show off the community's lifestyle, and promote events or open houses. Bumper ads are designed for quick impact, making them perfect for reaching a target audience of older adults or their families who are looking for senior living options.
Since they are non-skippable and short, they can be highly effective in communicating key messages about the community and its unique features.
Sponsored Card Ads
Sponsored cards are interactive display ads on YouTube that allow senior living communities to showcase additional information about their facilities, services, and amenities, while a viewer is watching a video.
These ads are shown as small "card" overlays on the video and can be activated by the viewer clicking on the icon. Sponsored cards can be used to provide a call-to-action, such as visiting a website, or they can display information about floor plans, pricing, and other features of the community.
These ads can increase engagement and conversions, by allowing the resident or their family members to interact with the ad and learn more about the senior living community, its services and the lifestyle it can offer. This can increase the chances of them visiting the website or booking a tour.
Overlay Ads
A YouTube overlay ad is a semi-transparent display ad that appears on the bottom of the video screen while users are watching content on YouTube.
They don't interrupt the video and have a "close" button that allows the viewer to close the ad. They can be effective for driving click-throughs and website visits, promoting a product or service and remarketing campaigns as they are only shown to users who have previously visited your website.
They are less intrusive than other ad formats and can be targeted to specific audiences who already have some knowledge of your brand. With overlay ads, you can reach your target audience without interrupting their viewing experience.
Display Ads
A YouTube display ad is an image-based ad format that appears on YouTube alongside the video content. They can appear as a banner or a square ad on the right side or top of the video. They can be used to promote a website, product or service, these ads can be targeted to specific demographics, interests, and behaviours.
YouTube display ads are effective for increasing brand awareness and driving website traffic. They are also useful for remarketing campaigns because they are only shown to users who have previously visited your website. These ads also provide measurement capabilities to track the performance of the ad campaign.
Why YouTube Ads?
YouTube ads are a great tool to:
Build brand awareness
Influence the buyer's decision in your favour
Grow your sales or bookings
Increase brand loyalty
Benefits of YouTube Ads
The main benefits of YouTube ads include:
Large audience: YouTube has a large potential audience of over 2 billion monthly active users
Targeting options: YouTube offers a variety of targeting options such as demographics, interests, behaviours, & remarketing
Video format: YouTube is a video-based platform, so video ads can be used to promote products or services
Retargeting: YouTube ads can be used to retarget users who have previously visited your website or engaged with your brand
Measurable: YouTube provides a lot of data that can be used to measure ad performance & optimize your ad strategy
Cost-effective: YouTube offers various ad formats that can fit into different budgets, making it accessible for different businesses
Versatility: YouTube offers a variety of ad formats, such as in-stream ads, overlay ads, display ads, & bumper ads, which can be customized to suit different business needs
Maximize Your Results with These Tips & Tricks
You can maximize the performance of your YouTube ads by:
Leveraging remarketing
Adding interactive elements to your ads
Setting specific ad goals
Setting a frequency cap
Personalizing your message
Segmenting campaigns
We can help. Contact our experts at CITIZEN to learn more.